Ekata
Ixtan is characterized
by the dimensions of space and time
while Antar places no real value
to these dimensions;
Antar aims to arrive
at an absolute timelessness;
it represents
the most profound aspect of Ekata.

ISBN-13:

 9781632491312

Publisher: 

 America Star Books

Publication date: 

11/5/2014
Pages: 90
Product dimensions: 5.50 (w) x 8.50 (h) x 0.22 (d)
Synopsis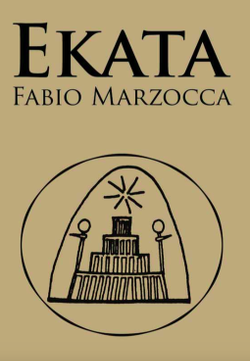 Ekata was an ancient city whose name means 'oneness' or 'wholeness' in Sanskrit language.
The city is divided into two parts: the Ixtan and the Antar. The citizens of Ixtan and Antar have a relentless rivalry. Sunirgata, the lofty but enlightened king of Ixtan, leans towards the scientific and social progress of the community, while Vudita, the reflective high priest of Antar, provides vital nourishment to the incorporeal side of the people.
Kanak, an elderly blind man, has the mysterious task of caring for the vision of the Ekata population. Sadih, a young potter from Ixtan, becomes his loyal friend. When Sunirgata sets out to build a giant wall to divide Ekata, Kanak realizes that it is imperative to find a solution that will bring the Ekata people together. Thus, his mission is to restore sight to the two rulers. Young Sadih accompanies him in the accomplishment of this important mission.
Although troubled by his own personal problems, he understands the delicacy of the task of the blind old man.
Only when the city is nearing its end and being destroyed by mysterious catastrophic events, will Kanak be able to reveal a startling truth to the people that will unravel the twisted plot of a lifetime spent in hate.
Buy online
Kindle edition: in every Amazon online store
Book trailer